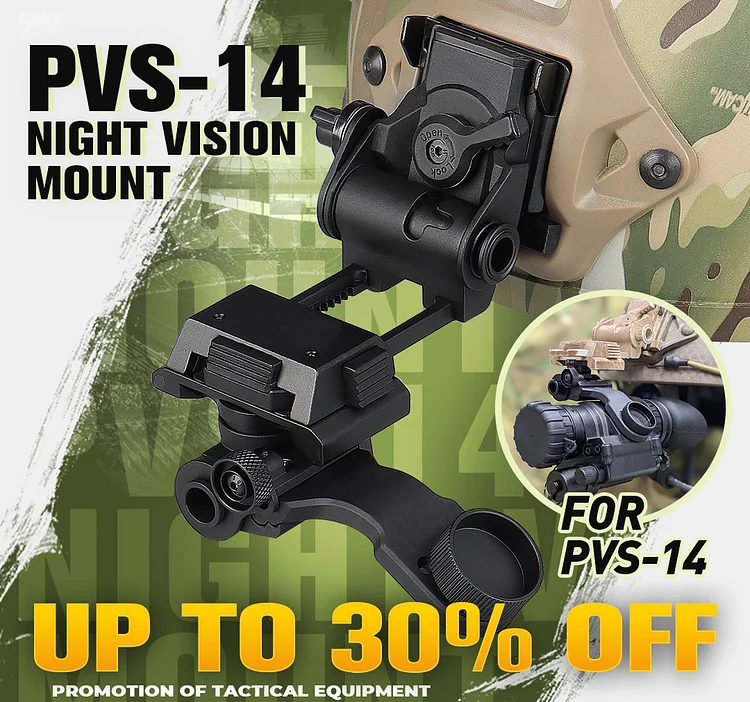 PVS14 Dovetail J Arm & L4 G24 Mount
1. The L4 G24 helmet adapter is designed to provide a safe and stable connection bracket for night vision equipment. It features a quick release lever for easy and safe attachment and removal of the night vision goggles. The adapter also features a locking mechanism to prevent accidental disengagement of the night vision goggle. It is a great choice for outdoor activities.
2. The L4 G24 helmet adapter is designed to be lightweight and compatible with most helmets. Weighing only 310g, it can be easily operated with one hand, and you can adjust the angle of the night vision goggles to get the best view. It is a good choice to carry it to outdoor activities.
3. The L4 G24 helmet adapter is compatible with AN/PVS-15, AN/PVS-18, AN/PVS-31, BNVD-G, TNV/Sentinel, a good one for those who need a reliable and versatile adapter choose.
4. Highly stealthy: Available in a flat matte black finish optimized for nighttime covert action or in desert tan.
5. Available in two colors: This helmet adapter night vision adapter is available in two colors: black and tan, so you can choose the color that best suits your needs.
The PVS 14 Dovetail J Arm improves upon the standard NVG J Arm by allowing the use of a dovetail style mount like the G24.
Made of Aerospace Grade Aluminum and High Strength Polymer.