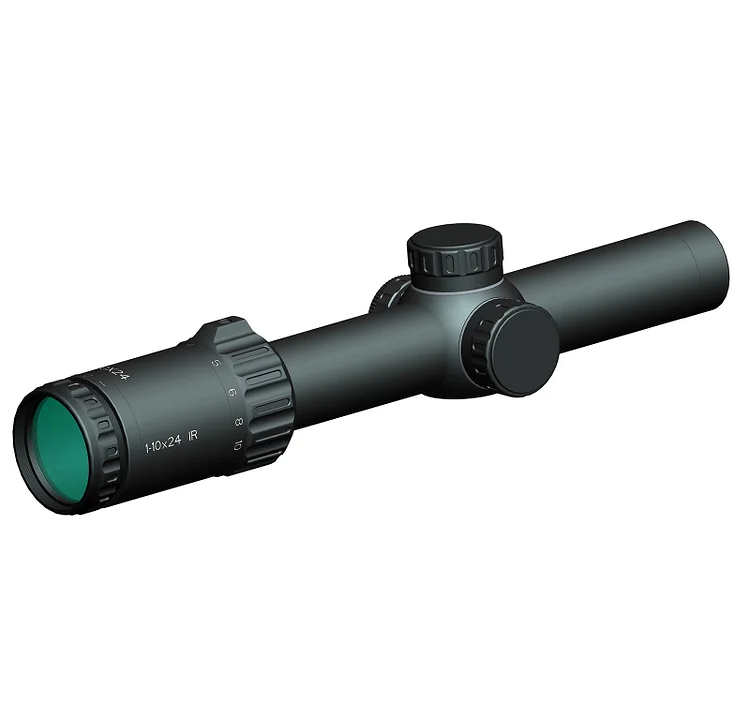 Versatile Magnification Range: With a magnification range of 1-10X, this rifle scope allows you to easily switch between close-quarters shooting and long-range precision targeting, providing versatility for various shooting scenarios.

Clear and Bright Images: The 24mm objective lens diameter and green coating ensure excellent light transmission and reduce glare, resulting in clear and bright images even in low-light conditions.

Wide Field of View: Offering a wide field of view ranging from 22.5° to 2.2°, this scope enables better situational awareness and target tracking, allowing for quicker and more accurate shots.

Precise and Easy Adjustments: The scope features 110 MOA adjustments for both left-right and up-down movements, making it easy to compensate for windage and elevation and achieve precise aiming.

Durable and Compact Design: With a sturdy construction and dimensions of 267.5mm in length and 34mm in tube diameter, this scope is compact and lightweight, providing ease of use and transportation without compromising durability.
Product Specifications:
| Parameter | Value |
| --- | --- |
| Magnification (Low) | 1X |
| Magnification (High) | 10X |
| Objective Tube Diameter | 34mm |
| Objective Lens Diameter | 24mm |
| Eyepiece Tube Diameter | 44.5mm |
| Eyepiece Lens Diameter | 36mm |
| Coating | Green coating |
| Click Value (Inch) | 0.5 |
| Left-Right Movement (MOA) | 110 |
| Up-Down Movement (MOA) | 110 |
| Exit Pupil Diameter | 24-2.4mm, 21-2.4mm |
| Exit Pupil Distance | 95-90mm, 99-94.5mm |
| Field of View (Low) | 22.5°, 121.2FT |
| Field of View (High) | 2.2°, 11.5FT |
| Resolution | 6.5" (High magnification) |
| Parallax Setting (Yards) | 100 |
| Diopter Range | ±3mm |
| Reticle Type | Glass reticle |
| Reticle Illumination | Yes (YAE) |
| Optical System Length | 261mm |
| Product Length | 267.5mm |
| Battery Type | CR2032 |
| Product Tube Diameter | 34mm |