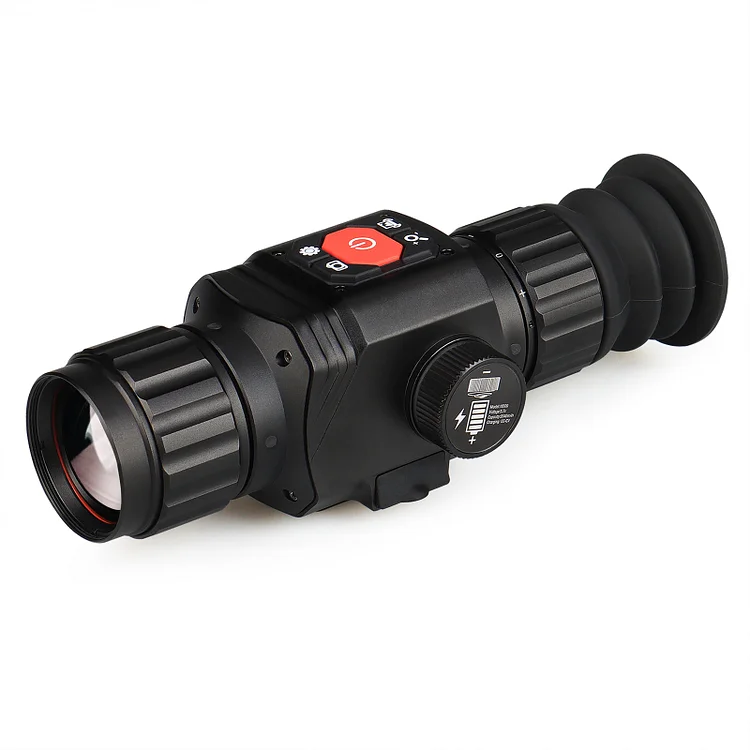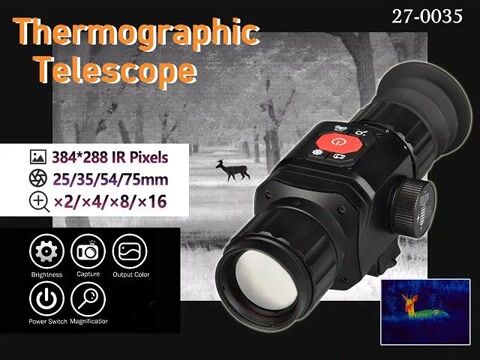 Summary
The outdoor thermal image telescope takes advanced uncooled focal plane infrared detector and high-quality optical lens as the core in combination with a convenient and fast operating system.compact shape design, fully functional expansion spare parts, long service life, ruggedness and durability, suitable for various environments. It has built an infrared thermal imaging tool with "clear imaging, simple operation and easiness to carry".
This product is used for field animal observation, search and rescue, police law enforcement and investigation, night patrol, outdoor sports, personal security, etc. This product functions as photo taking.and can browse photos taken through the USB connected computer.which is convenient for multiple people to observe at the same time and create possibilities for more applications.
Cautions and Safety Maintenance
To ensure the proper use of this product, please read the instructions carefully:
* Do not use this product in a flammable, explosive, humid or corrosive environment.
* This product contains precision electronics and sensitive optical devices. Please do not make it collide or fall to avoid damage.
* Do not disassemble and refit this product without permission.
* Use wet cloth or weak soap to clean the casing of this product. Do not use abrasive, isopropanol or solvent, Use professional optical lens cleaning agent for the lens and screen.
* When the product works, there will be a slight click every few seconds. This is the sound of lens shutter, which is a normal case.
* Warning: Do not use the lens to look directly at the sun, which may damage the optical lens.
Performance Indicators
Infrared

detector

Type of detector

Amorphous silicon uncooled infrared focal plane

Resolution ratio

384x288

Pixel size

17μmx17μm

Working band

8~14μm

NEDT

<40mk(50Hz,F/1,300K)TFPA 25°C(+5°C)

Scene dynamic

>50°C(50HZ, F/1,300K)TFPA 25°C (±5°C)

Frame rate

60Hz

Infrared

objective

Focusing way

Manual focusing

F factor

1.0

Effective image surface

Ф8.2mm

Ф9.6mm

Ф8.2mm

Ф12mm

Focal length

25mm

35mm

54mm

75mm

Field angle

14.9°x11.2°

10.7°x8.0°

6.9°x5.2°

5.0°x3.7°

Focusing range

>0.3m

>0.3m

>1.5m

>5.0m

eyepiece

Focal length

18mm

Distance of exit pupil

48mm

Exit pupil diameter

8mm

Diopter regulation

土4SD

Visual magnification

14x

Displayer

Display screen type

OLED

Resolution ratio

1024*768

Display screen size

0.39 inch

System function

Electron doubling

x2/x4/x8/x16

Color palette

White Hot, Black hot, Rainbow,Hot metal, Yellow saturated, Birdwatching mode

Intensity control

10 file

Contrast control

10 file

Image detail mode

Two types of fifth gear

Photograph

support

Hotspot tracking

support

Language

Chinese、English

Reticle

Type of divergence line

7 kinds

Calibration of drop distance

10m、30m、60m、100m、300m、600m、customized distance

Detection range

Infrared objective

25mm

35mm

54mm

75mm

Character

≤1667m

≤2333m

≤3600m

≤5000m

Wild boar

≤1471m

≤2059m

≤3176m

≤4412m

Vehicle

≤2501m

≤3500m

≤5400m

≤7500m

Recognition distance

Character

≤416m

≤583m

≤900m

≤1250m

Wild boar

≤367m

≤515m

≤794m

≤1103m

Vehicle

≤626m

≤875m

≤1350m

≤1875m

Storage

Built in storage

16G

image format

BMP

Interface

USB interface

Type-c Export picture and battery charging function

Power supply

Removable rechargeable lithium battery

18500/2040mAh

Overall power consumption

≤1W

Battery life

≤6 hours

Work/storage environment

Working temperature

-20°C~+50°C

Storage temperature

-30°C~+60°C

Resistance to impact

≤1200g

Protection grade

≤IP66

Overall dimensions / weight

Overall dimensions / weight (without bracket)

25mm

181*71*62mm

517g±5g

35mm

188*71*62mm

537g±5g

54mm

211*71*64mm

567g±5g

75mm

238*87*87mm

742g±5g