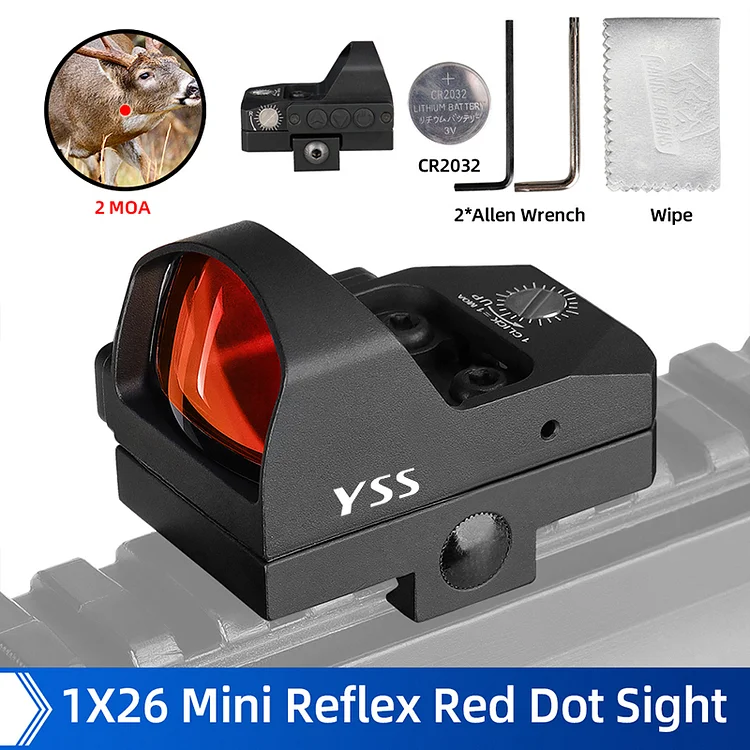 Performance Parameter

Magnification

1x

Reflex Lens Coating

Red

Overall Light Transmission

85%

Objective Lens Diameter

26X18

Reticle Style

Single dot

Dot Size

2MOA

Parallax

1.5

Parallax Correction

100M

Adjustment Turrets

Hexagon

Adjustment Range

45MOA

Pressure of adjustment screw

2kg

Brightness

0-4 Level

Whock resistance

1000G

Waterproof

5m

Apperance Parameter

Centerline Height

22MM

Finish & Coating

Anodizing

Color

MATTED BLACK

Marking

Can be customized

Length

46.4MM

Height

37MM

Width

33MM

Weight

60g,with batteries

The use of parameters

Resistance

1100g

Mounting Requirement

21.2MM

Mounting Styie

ScrewBriquetting way

Ooperation temperature range

1-20~+60(there will be a change of the battery)

Storage temperature range

1-20~+60(there will be a change of the battery)
2-20~+75 (without battery )

Mounting Styie

Screw,Briquetting way

Battery

CR2032(225mAH)

Battery Life

High-light:50 hours,Low-light:500 hours

Power supply

3V

Operating current(low-light)

0.3mA

Operating current(high-light)

3.5mA

Quiescent Current

1A

Rated Input Power

10mW

Rated input voltage

3.0V

Rated Input Current

3.5mA

Rated Output Voltage

3.0V

Rated output current

3.5mA

Frequency

82Hz
Red dot sights place the target and the reticle on nearly the same optical plane, allowing a single point of focus. This makes them fast acquisition and easy to use sights, allowing the user to keep their attention on the field of view in front of them. They are common in speed shooting sports such as IPSC. Military units and police forces have also adopted them. Red dot sights are also popular among paintball and airsoft players for similar reasons.
Because there is no magnification, the shooter need not worry about parallax or eye relief. The long eye relief makes red dot sights appropriate for firearms with heavy recoil that might drive a conventional short eye relief telescopic sight into the shooter's eye. Since dot sights can be mounted at any distance from the shooter's eye with no issues of focus, military rifle mounts usually place the sight in any mechanically-convenient mounting position, such as the carrying handle of the M16 rifle, or on a rail system (typically a Picatinny rail) on top of the rifle. This leaves plenty of room for night vision equipment to be used with the red dot sight.
Miniature red dot sights are becoming increasingly popular for use on pistols, both for competition and military applications