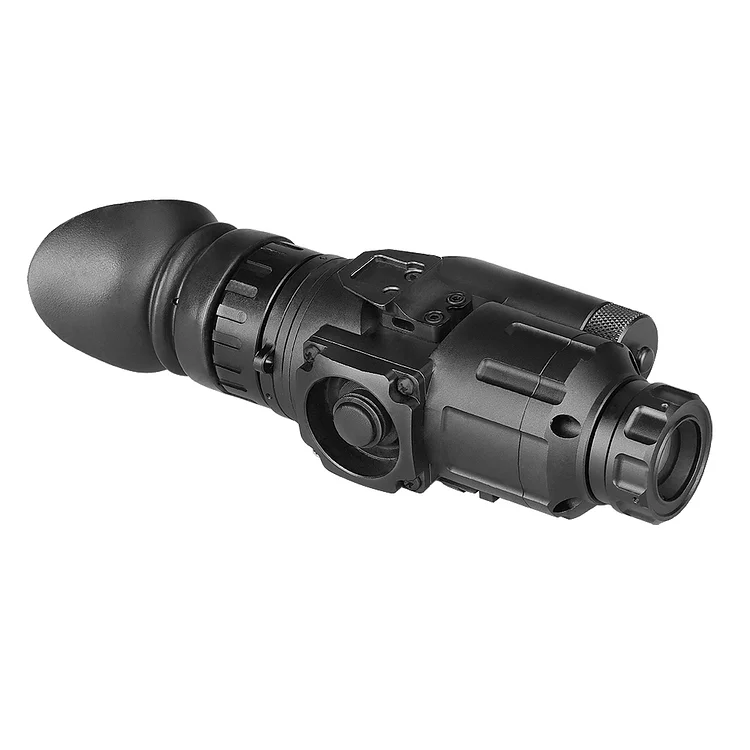 | | |
| --- | --- |
| Magnification | 8X |
| FOV(Field of View) | 21.5degree X 12degree |
| Screen Size | 0.4 inch |
| Resolution | 1280×960 |
| Battery Type | AA |
| Standby Time | 45 minutes to 120 minutes |
| Sensor Type | SONY IMX385 1/2 inch |
| With or Without Infrared Light | yes |
| Display Device | LED |
| Operating Temperature | -30degree/+55degree |
| Horizontal Resolution | 420 lines |
| Central Wavelength | 940nm |
Features:
1. High resolution. It can provide a clearer and more detailed image, high-definition imaging makes the accuracy rate higher.
2. Good day and night imaging performance. Super high imaging performance makes it works well whether day or night.Even in the case of poor lighting conditions,It can provide a clear image.
3. Light weight. Lightweight material is conducive to better anti-shake during use, a solid device is easier to aim at the target, but also helps to reduce the burden on the head.
4. High magnification. TNVC-M250HD 1-8X digital night vision device is a high magnification professional digital night vision device, adaptable to low illumination, high image quality, can clearly and accurately see the distant target.
5. Wide field of view angle. The ultra-wide field of view angle allows users to observe a larger range and improve the sensitivity of the view.
TNVC-M250 high-definition digital night vision device is a high-performance professional digital day and night night vision device, with strong adaptability to low illumination, high image quality, fine image quality, can be used day and night, all metal body is waterproof and light in weight Features. It also has day and night photography, video, video output and other supporting functions, which fully meets the individual needs of users, and is suitable for outdoor activities such as hunting and hunting.
The M250 1-8X infrared night vision device from EAGLE EYE is the latest creation. The powerful computing power gives this night vision device a powerful picture compensation and higher accuracy. The small and compact design allows you to use it with one hand. It can also be mounted on a helmet via a coupling bracket. Or it can be used on a rifle with the 24-0247 DLOC-IRD quick release mount (sold separately). We have developed a super useful linkage kit that allows this item to support single-eye mode, double-eye mode, left-eye mode and right-eye mode.
The objective lenses are Umicore GASIR® infrared lenses, optimised for a wide range of magnifications, and the eyepieces are higher than PVS-14 lenses with a multilayer coating to filter incoming light and improve imaging accuracy.
Military grade thumbstick, perfectly sized, no more searching for buttons in the dark. The multi-directional joystick control, unlike traditional buttons, is easy to find in total darkness. The ergonomic design of the monocular allows the user to take advantage of all the functions. The menu system, included, is designed to be intuitive and effective to operate
The extensive function operation menu allows for easy switching and function operation.
The included DV video cable allows you to connect to other video output devices such as computers or televisions for quick and easy management and sharing of video and picture files.
The product supports picture mode and video mode. Outstanding image quality, powered by Texas Instruments TEXAS INSTRUMENTS (TI) chips.
Vision Outdoors at Night: M250HD Night Vision Plus 850nm Long-Range Infrared Illuminator
Technical specifications:
Parameters
MT250
Electronic Magnification
1x-8x
Optical Magnification
1x
Objective aperture (mm)
16.5mm(effective aperture), ultra-broadband coating
Eyepiece diameter (mm)
43mm
Eyepiece lens
22mm
Objective lens
16.5mm
Range of field of view(FOV)
21.5°*12°
Eye point distance
27mm
Visible range
≧500m
Detection range
≧300m
Identification range
≧300m
Diopter adjustment
"+2 ~-6
Water resistance
IP67
Sensor
SONY IMX385 1/2 inch
Sensor level
0.0001lux starlight-grade ultra-low illumination CMOS, 1280 x 960
Display components
0.4 inch LCOS LCD liquid crystal display
Photo resolution
1280×960
Video resolution
1280×960
Illumination
-
Central wavelength
400-1100nm
Batteries used
RCR123/16340/16650
Operating voltage
3.7V
Standby time
45 minutes to 150 minutes
Built-in screen size
0.4", LCOS liquid crystal display
Image brightness adjustment level
5 st
Memory
8GB-128GB(capacity optional)
Size
145.5mm×76.5 mm×56mm (without eye mask)
Weight
362g
Recording function (recording/time recording)
45 minutes to 120 minutes
Operating environment
"-30/+55℃
Storage temperature (°C)
"-35/+60℃
Other features
Split crosshairs Nine modes Red, green and black colour options
Mechanical interface
Integrated Picatinny rail
G24 dump truck interface