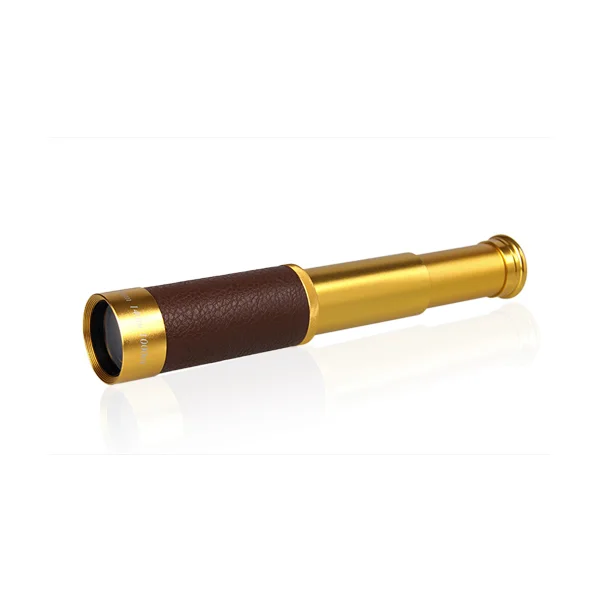 Operating Instructions
12X Handheld Telescope
Handheld,Collapsible
12-Power,30mm Lens Diameter
Magnification
12X
Objective Lens Diamete
Φ30mm
Field of View
8°/ 140m@1000m
Focusing System Sliding Focus
INTRODUCTION
Congratulations on your purchase. Your telescope is a compact,portable, precision instrument designed for many years of viewing enjoyment. A brief review of the instructions below should answer any questions and help you get the most from your purchase.
CAUTION
NEVER POINT THETELESCOPE DIRECTLY AT OR NEAR THE SUN AT ANY TIME! OBSERVING THE SUN ,EVEN FOR THE SMALLEST FRACTION OF A SECOND, MAY RESULT IN INSTANT AND IRREVERSIBLE EYE DAMAGE.
Binoculars or field glasses are two telescopes mounted side-by-side and aligned to point in the same direction, allowing the viewer to use both eyes (binocular vision) when viewing distant objects. Most are sized to be held using both hands, although sizes vary widely from opera glasses to large pedestal mounted military models.
Telescopes are optical instruments that make distant objects appear magnified by using an arrangement of lenses or curved mirrors and lenses, or various devices used to observe distant objects by their emission, absorption, or reflection of electromagnetic radiation.The first known practical telescopes were refracting telescopes invented in the Netherlands at the beginning of the 17th century, by using glass lenses. They found use in both terrestrial applications and astronomy.