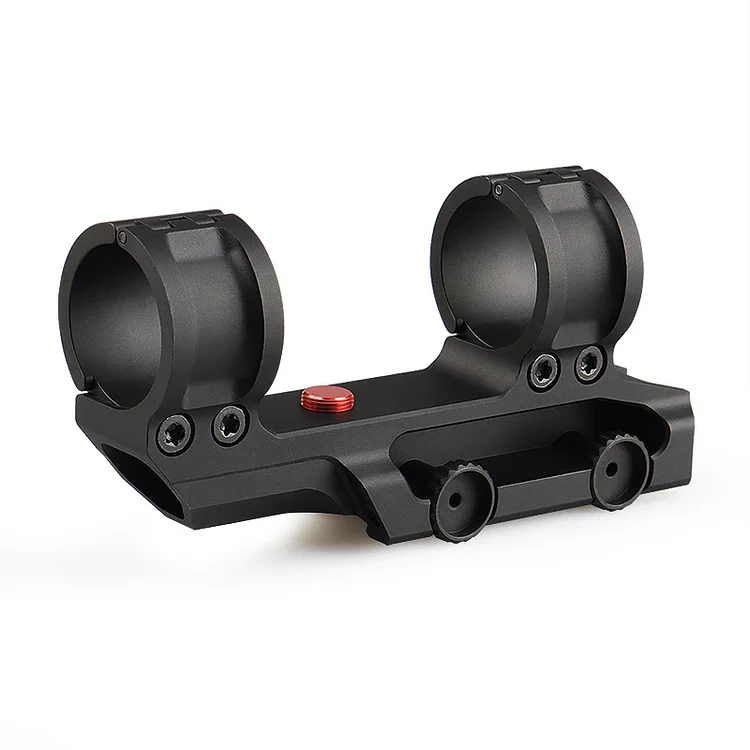 Scar LEAP 1.57 inch 30mm Ring mount
A high-strength, precision fitted hinge ensures even pressure around your optic, without requiring the tedious and imprecise setup that split rings do.
Twin oversize CNC machined shoulder screws provide even tension and act as structural elements, making the entire ring assembly phenomenally rigid.
Each side of Ring is carefully lightened with a curvature continuous scallop that produces a very high strength-to-weight ratio.
The Scope Mount Ring is wider than competing designs, providing more surface area to safely and securely hold your optic.
The ultra high performance Scalarworks Leap 30MM Scope Mount is designed for shooters who want the lightest, most rigid, easiest to use, and least obtrusive quick detach scope mount possible at a 1.57 inch height (no co witness) over the rail.
Specifications
- Materials: 6068 aluminum
- Finishes: Type III Anodizing / Flash Nitride
- Ring diameter: 30mm
- Compatible firearms: any rifle with a mil standard 1913 picatinny rail
- Center height over rail: 1.57 inch
- Cant: 0mm (0 MOA)
- Overhang: 50.8mm (2.0 inches)
- Weight: 5.62 oz
leveldrive
An integrated set-screw lets you square your scope with your mount in record time.
ClickDrive
The world's most efficient quick-detach mechanism.
A fluted crown requires only the torque from your bare hand to securely clamp the mount onto a rail, and uses the force from a spring-loaded ball-detent to make it completely recoil proof. Return-to-zero is guaranteed as long as the same person takes it on and off.