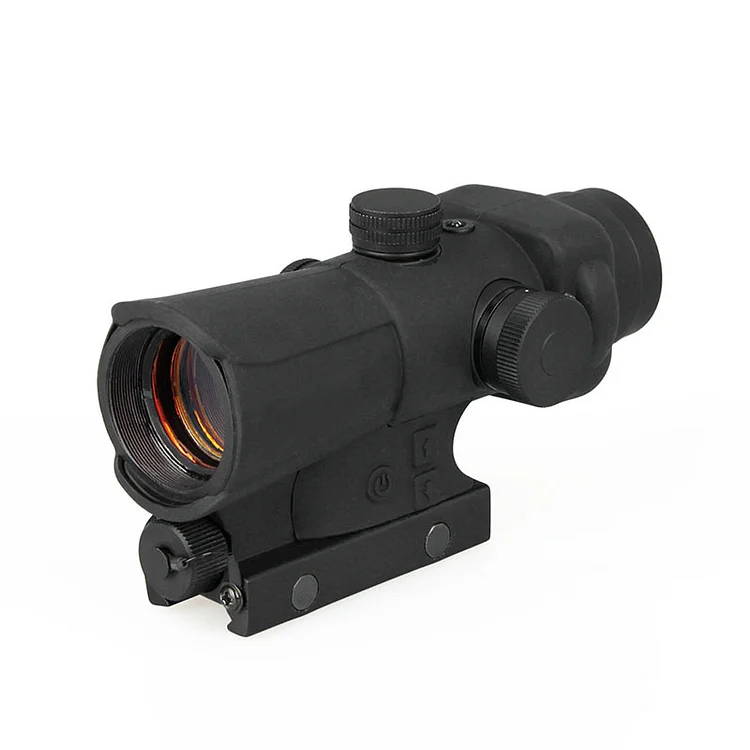 Magnification
1 x
Adjustment screw
55 gear
Click value
1 moa
Parallax correction
50 yds
Parallax Single side more that 130
Illumination
IR
Color
Black
Battery
AAA battery
Gross weight
451 g
Rail
21.2 mm
This product is a multi-point type products with photosensitive resistance capabilities and night vision condition , the focal length is corrected to one hundred meters.
Battery: AAA battery

Button: there are three buttons as follows: on-off button, turn up button and turn down button .
gear position design: there are 11 gear positions including on-off function .it not only can be turned up for 9 gear position but also can be turned down for 9gear position.it has gear position memory function.
Parallax range:single side range is more than 130(120 standard)left and right Parallax is 1 ' .Up and down Parallax is 2 '(within 30 ')Less than 3 'to go vertical oblique, go right and left obliquely is less than2 '
Adjustment screw: adjustment screw has 50 gear in total .click data is 1' click. When Adjustment screw uses(≥3Kg)force to press down the dot will not be shaking
Operation Instructions
Pressing the on-off button to start, press the on-off button again and the red dot begins to blink for three seconds → flash (slow flash), pressing the on-off button it will start flashing for 3 seconds again → slow flash (flash).
There are two flashing condition:fast flash, slow flash. Two kinds of flashing functional sequences are mutually converted, the first flashing condition when it start operating depends on the last time the last flashing condition before the power is turned off.
Fast flash: whatever the red dot brightness in which gear position, the fast flashing flashes for three seconds and it will adjust to the lowest point brightness of the red dot automatically, into the night vision condition, in which case the adjustable button of the gear position cannot be adjusted.
Slow flash: when in the night vision position, the slow flash will flash for 3 seconds(flash 3to 4),and adjust to the brightest in the last memory of the gear position automatically. In the same time it will recovery the adjustment function of the gear position . pressing ↑up button to make the brightness brighter. And it has 9 rising position. pressing↓ down button to make the brightness less bright.it also has 9 falling position.(9 gear position in all ,including the on-off is 11gear ).it will be power off when pressing the on-off button for3 seconds.
1.When the light brightness under the control of the photoresistance ,the up and down switch can not be adjusted.
2.When the up and down switch can be adjusted, photoresistance can not control the brightness of the light.