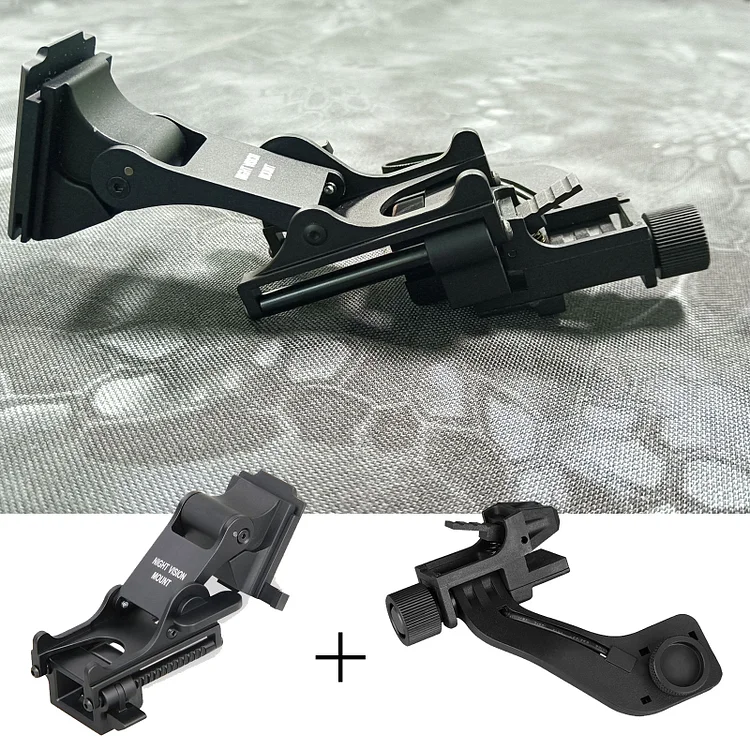 The night vision coupler is a must-have for any night vision enthusiast. The device is designed to provide a secure connection between your night vision goggles and a camera or other device. It features a durable all-metal NVG Rhino arm that is durable, yet very light for portability and can withstand long-term use.
The device has a low-profile design that fits snugly against your helmet, providing a secure and stable connection as you move. The night vision goggle connector is designed to be lightweight and durable for any situation. It's also designed to be easily attached and removed, so you can switch between different night vision goggles quickly and easily.
The NVG Rhino Arm is adjustable, so you can adjust the angle of the night vision goggles for the best view. It also features a quick release system that allows you to quickly and easily disconnect the night vision goggles from the J-arm with a simple plug-and-play design.
Switching freely: Allowing the rotation of NVD, the optical night vision device can be viewed with the left eye or the right eye, and can be easily switched anytime and anywhere. The digital night vision device only supports viewing with the right eye. The "wired" helmet mount adapter has contact points that interface directly with contact points on the PVS-14, and the system automatically shuts off when the user flips the system into an upright position.
Compatible with PVS-14 night vision: This J-Arm adapter and rhino arm combination is compatible with PVS-14 night vision, it is a good choice for people who need a reliable adapter, the adapter combination is adjustable , can be easily attached to your helmet.
This combination product is SKU: CL24-0221 and CL24-0131 combination product, purchase link:
https://www.haikewargame.com/products/yss-pvs-14-night-vision-movable-j-arm-helmet-adapter-pom?cfb=d38f34f9-ade0-4a45-8991-3caecd11a5b4&ifb=d38f34f9-ade0-4a45-8991-3caecd11a5b4&scm=search.v7&score=0.42857142857142855&ssp=
https://www.haikewargame.com/products/yss-nvg-rhino-arm-helmet-adapter-night-vision-mount-for-pvs-14-pvs-7?cfb=d38f34f9-ade0-4a45-8991-3caecd11a5b4&ifb=d38f34f9-ade0-4a45-8991-3caecd11a5b4&scm=search.v7&score=0.6000000000000001&ssp=