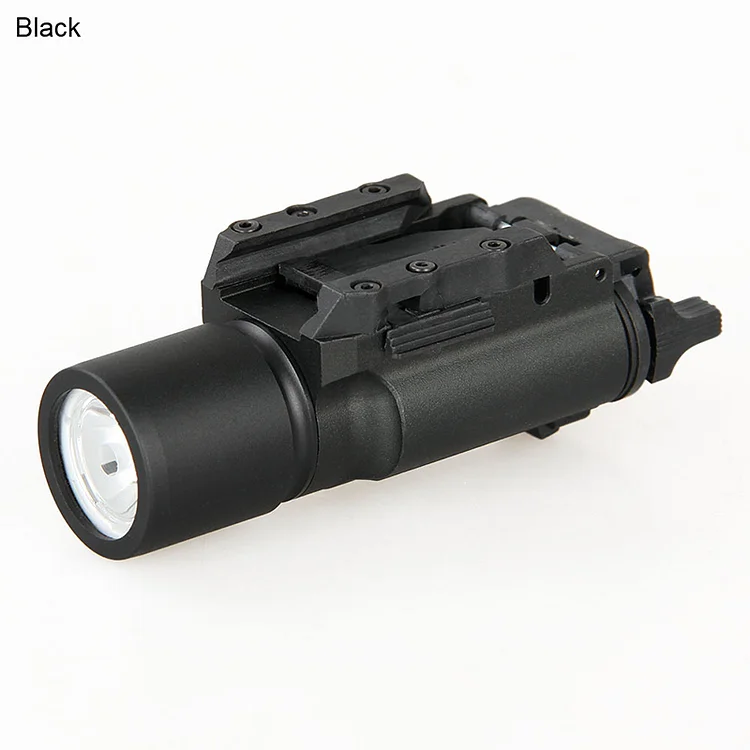 Surefire X300 Ultra LED Weapon Light CR123A
Features:
Fits handguns and long guns with Picatinny or Universal rails
Virtually indestructible LED regulated to maximize output and runtime
Tactical-level output with TIR lens for close to medium range applications
Quick-detach rail clamp
Accepts optional pistol grip and long gun forend switches
Mil-Spec anodized high strength aerospace aluminum construction; impact resistant polymer; coated and tempered lens
Specifications:
Maximum output
300 lumens
Tactical run time*
2.4 hours
Uses 2 x CR123A batteries (Batteries not included)
Finish/Color
Black/Tan
Fit
Pistol and Picatinny
Manufacturer
Surefire
Manu Part No
X300
Model
X300 Weaponlight
Type
Weaponlight
"A tactical light is a flashlight used in conjunction with a firearm to aid low light target identification, allowing the marksman to simultaneously aim and illuminate the target. Tactical lights can be handheld or mounted to the weapon with the light beam parallel to the bore. Handheld lights are generally restricted to use with handguns, as long guns require two hands to operate. While just about any handheld flashlight can serve in the role of tactical light with the proper technique, some features are more readily adapted to the role. Weapon mounted lights (sometimes called ""weaponlights"") offer hands-free use, leaving the operator free to use both hands to control the weapon. Most models have an on/off switch mounted on a short wire. The switch is then mounted somewhere on the gun within easy reach of the firer's fingers. Weapon mounted lights are most commonly seen on rifles, shot guns, and submachine guns, but they are becoming more common on hand guns as well."

Tactical flashlights serve a much different purpose to household flashlights, their history and development has been made to serve a different market. Tactical flashlights were originally developed to be used in conjunction with a firearm to assist with target identification in areas where there is limited lighting. Rather than wielding a separate flashlight, it would allow a marksman (law enforcement, security or military) to aim a weapon and illuminate a target at the same time.

For police and security, tactical flashlights were a great innovation as they could offer a concentrated light beam which could temporarily blind an assailant or suspect, assist with target identification, and, with the much bigger tactical flashlights such as the Maglight, it could be used as a blunt weapon much like a police baton. This field of use meant the tactical flashlight had to be constructed differently, as household flashlights are often made of cheaper materials such as plastic, and would not be able to provide these same uses for those specific industries.

Tactical flashlights would also extend into further military use, where instances might permit for lower lighting filters to be used, such as red light filters to preserve a person's night vision as well as being able to illuminate an object. Some tactical flashlights can also be used with infrared filters, which when used in conjunction with night vision operating equipment, can serve as a marker or illuminate objects or areas to only night vision wearers. This is also used with laser sighting for weapons, which is a standard practice for the military to use precision aiming at night.