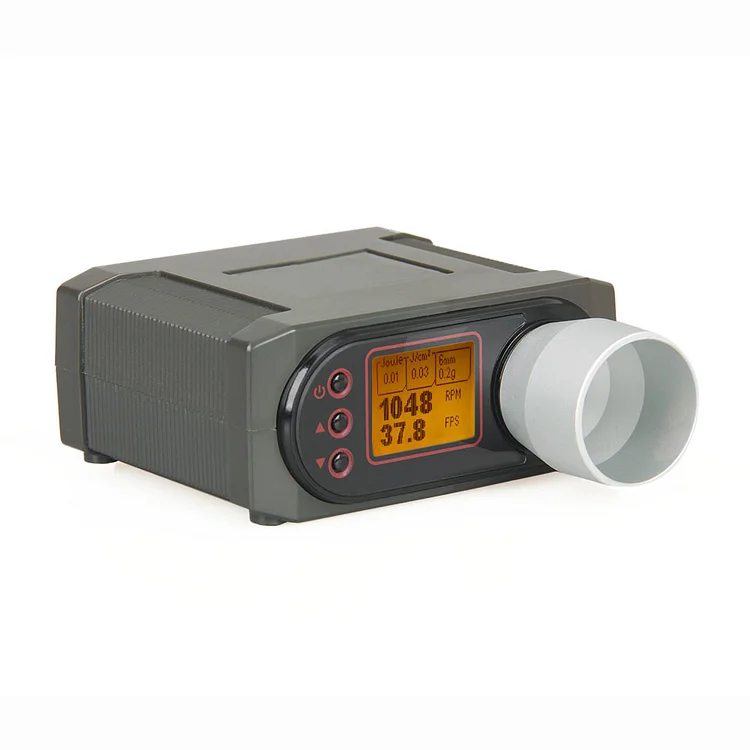 LCD Display
6 Memory slots
Tripod screw for tripod fitting
Durable/detachable anode aluminum hood
Muzzle velocity range: 10~400MPS* R.O.F. Range: 100~9999RMP
Muzzle energy range: 0.01~999 Joule
Batteries: Operated by 4 x AAA Batteries (Not Included)
Dimensions: 115 x 100 x 50mm
Velocity: FPS/MPS
Fire Rate: Balls per second BPS/BPM
Pre-set B.B weight v.s. energy(Joule) 0.20g, 0.21g, 0.22g, 0.23g, 0.24g, 0.25g, 0.26g,
0.27g, 0.28g, 0.29g, 0.30g, 0.31g, 0.32g, 0.33g, 0.43g, 0.89g
A

gun chronograph
is an instrument used to measure the velocity of a projectile fired by a gun.
An early chronograph that measures velocity directly was built in 1804 by Grobert, a colonel in the French Army. This used a rapidly rotating axle with two disks mounted on it about 13 feet apart. The bullet was fired parallel to the axle, and the angular displacement of the holes in the two disks, together with the rotational speed of the axle, yielded the bullet velocity.
The modern chronograph consists of two sensing areas called chronograph screens, which contain optical sensors that detect the passage of the bullet. The bullet is fired so it passes through both screens, and the time it takes the bullet to travel the distance between the screens is measured electronically.
Speed Tester Airsoft BB Gun Shooting Chronograph Xcortech for Hunting
Features
This Chrono is 8.5oz weight and pretty light when put on your gun.
Graphic LCD Display
It is very simple to use
Extra large size diameter: 20mm. You can even measure the velocity of paintball
Description
If you work on airsoft or paintball guns, one of the most important tools you can have on your workbench is a chronograph. It is critical to know the velocity of an airsoft bb or paintball in order to determine if the gun is shooting too slow or too fast. A gun that shoots too fast will be dangerous on the field, while a gun that shoots too slow will place the player at a tactical disadvantage. Having your own chronograph gives you the ability to quickly check your airsoft guns power and make sure it's shooting where it should be.
Product description