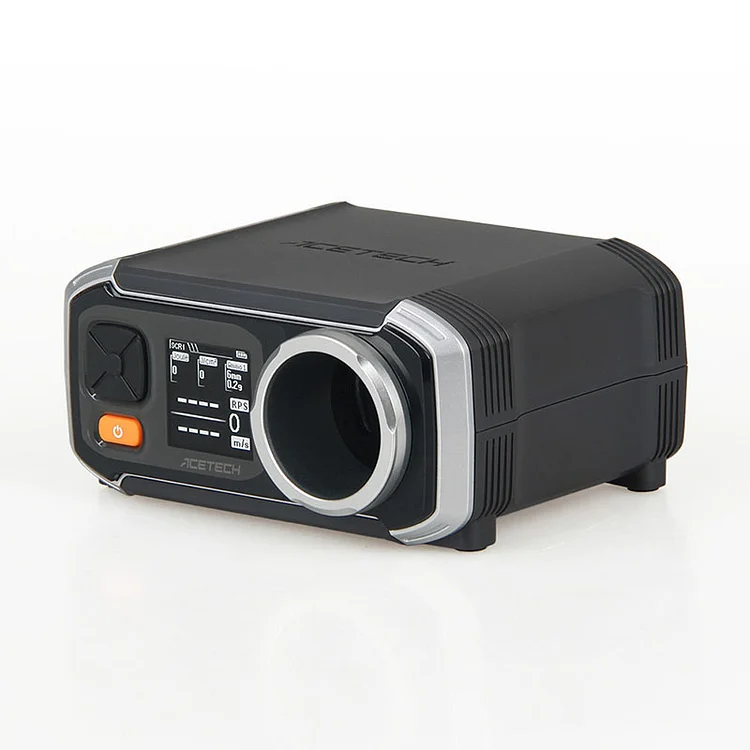 Features
Measures Muzzle Velocity from 30 m/s ~ 400 m/s (90 ft/s ~ 1200 ft/s).
ROF range
100~6000RPM
Ammo parameter setting
5 memory slots.
Pattent Led Lens Design for focusing and diffusing.
IR sensor calculate function, Accuracy greatly improved.
User-friendly interface with 128*128 pixel OLED in while color.
25 shot memory slots for velocity and ROF (Rate Of Fire)
Auto-calculate MAX, MIN, AVG by shot memory
Energy Per Unit Area Calculation
Extra large tube (diameter 36mm)
Support Micro-USB(5V/0.5A) power input(no battery charge function) or Use AAA battery*4
Tripod Ready mounting hole (Screw for standard camera / camcorder tripods )
Weight
290g without battery.
Size
L x W x H = 130 x 108 x 61 (mm)
An early chronograph that measures velocity directly was built in 1804 by Grobert, a colonel in the French Army. This used a rapidly rotating axle with two disks mounted on it about 13 feet apart. The bullet was fired parallel to the axle, and the angular displacement of the holes in the two disks, together with the rotational speed of the axle, yielded the bullet velocity.
The modern chronograph consists of two sensing areas called chronograph screens, which contain optical sensors that detect the passage of the bullet. The bullet is fired so it passes through both screens, and the time it takes the bullet to travel the distance between the screens is measured electronically.
AC6000 AIRSOFT CHRONOGRAPH LCD POWER METER DISPLAY
The AC6000 is a Pro Airsoft Chronograph with a High-Quality LCD Readout Display and Pin Point FPS Accuracy.
It's capable of measuring Muzzle Velocity's from 30 m/s to 400 m/s or 90 FPS TO 1200 FPS) and the rate of fire range is from 100 to 5000 rounds per minute.Useing this Chronograph is a breeze with its extra large hole to shoot into, if you have used a Crono before you with a big gun you will know how frustrating it is to try and hold the gun steady and not get a rim shot. (like dom always does)
it has a tripod ready mounting hole on the bottom of it so you can screw it to most standard camera brackets or camcorder tripods, this is also quite strong as you can see in the video review below it was droped on the hard concrete floor and still worked.
The Chronograph has a User-friendly interface with a light up screen to see it in low light and also shuts down automaticly if you are not using it to save your batteries. the screen can also be made to go brighter or darker.
The Ammo parameter setting Supports 5 memory slots.
And there are 25 shot memory slots for velocity and Rate Of Fire.
this airsoft crono can automatically work out your average shot power and will display your max and min shots, also can work out the Energy Per bb pellet.
you can use a Micro-USB (5V/0.5A) power input (does not charge your battery's), or you can use 4 x AAA batteries
all in all if you want a good Airsoft Chronograph that just works good and is easy to use this is the best one to get.