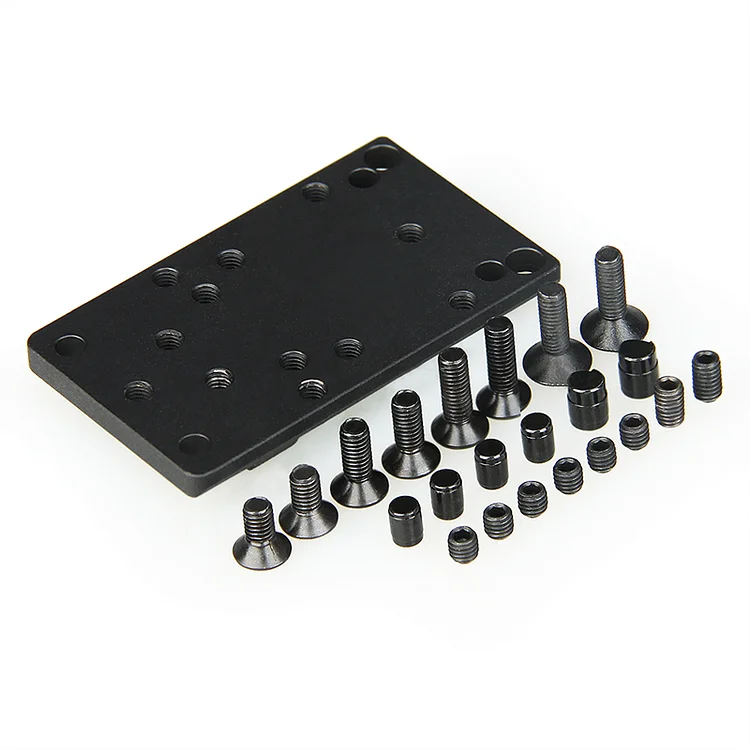 GLOCK Universal Mount Red Dot Optic Mounting Platform
Glock Plate Base Mount Compatible With Universal Red Dot Sight
The SI GUM is a GLOCK Universal (Optic) Mount will give you the ability to mount the most popular red dot style pistol optics without the hassle or expense of cutting and milling your slide. This innovative platform uses the GLOCK rear sight dovetail cut and a series of set screws to give you a rock solid optic mount. It gives you the lowest bore axis of any other optics platform in the industry. Solid steel construction and Strike Industries quality will give you a lifetime of use.
Please note:
Proper mounting may mark the finish of your slide.
Installation by a professional qualified gunsmith is highly recommended.
Specificatons and Features:
1.Strike Industries GUM GLOCK Universal Mount SI-GLOCK-GUM
2.Red Dot Optic Mounting Platform
3.No Permanent Modifications Required
4.Dovetail Mount with Set Screws
5.Low Bore Axis
6.Steel Construction
7.Matte Black Finish
Includes:
One GUM - GLOCK Universal Mount
One Package of Mounting Hardware and Set Screws
Fits:
1.Burris Fast Fire II & III
2.Leupold Delta Point reflex sights
3.Docters II & III
4.EoTech MRDS
5.Trijicon RMR
6.Vortex Venom and Viper
And Many Others