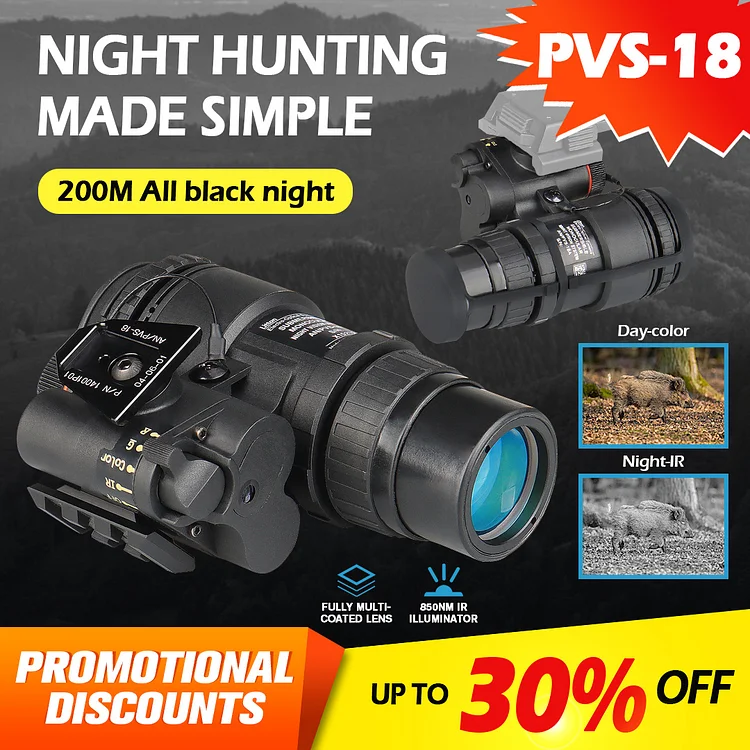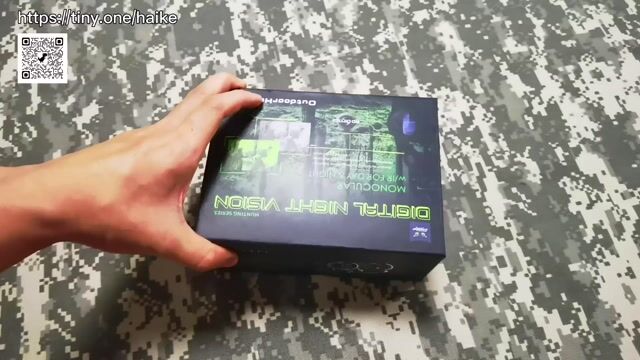 Features:
High-performance professional infrared PVS-18 digital night vision device. This product is a high-performance professional infrared PVS-18 digital night vision device with powerful functions, strong practicability and wide application range. It has a four-position switch and supports infrared, color, green and red modes to suit different fields of shade.
Good infrared concealment. Infrared lighting is used, which can fill in the light in the dark, and the brightness of the light is lower than the visible range of the human eye, which has better concealment. The built-in infrared illuminator can provide you even in complete darkness. Provides bright and clear images.
Ultra-wide field of view observation range, clear imaging. The FOV is 7.95°X 6°, the field of view is wide, and it has a good clear vision in the dark. The screen resolution is 320x240, and the built-in screen of 0.28 inches allows you to see a wider area.
High magnification. This product can increase the maximum magnification of 3 times, so that users can see clearly and accurately even in the distance.
The surface adopts anodized aluminum process, which is not easy to wear, and the equipment is not easy to rust in a humid environment. The coating is strong and the service life of the equipment is very long. The device is also water and dust resistant, so you can use it in any weather.
The 1x32 night vision device is a precision electronic instrument for viewing targets at night and in low light. For operation in very low light, the night vision device is equipped with an infra-red illuminator. It is a day and night night vision device with its own IR illuminator, colour image in light and low light and black and white image in pure black, with the addition of green and red images for use in various environments. The viewing distance is 1m to ∞. As a pocket-sized night vision device, it offers a hand-held function with a dovetail connector and a Picatinny rail for mounting on a helmet or a rifle, with interchangeable left and right eyes. It is small, light and easy to carry.
The entire product weighs no more than 300g, the ultimate in weight with enough power to ensure that the product can be operated with one hand and is light enough for long periods of handheld operation.
The product uses one CR123A lithium battery for long-lasting operation and the lens is made of the latest optical glass lens. The product has a four-position switch. It supports infrared, colour, green and red modes to suit different field shadows.
Powerful and practical for a wide range of applications. For example for field observation, hunting, camping or security, etc.
| | |
| --- | --- |
| Parameters | PVS-18 |
| Electronic Magnification | - |
| Optical Magnification | 1x |
| Objective aperture (mm) | 32MM |
| Eyepiece diameter (mm) | 8MM |
| Eyepiece lens | 27mm |
| Objective lens | 20mm |
| Range of field of view(FOV) | 7.95°*6° |
| Eye point distance | 25MM |
| Visible range | ≧200m |
| Detection range | 80~150 |
| Identification range | 80~150 |
| Diopter adjustment | 土5 SD |
| Water resistance | Domestic water |
| Sensor | - |
| Sensor level | - |
| Display components | LCOS Displays |
| Photo resolution | 320(H)*240(V) |
| Video resolution | 320(H)*240(V) |
| Illumination | IR LED |
| Central wavelength | 940nm |
| Batteries used | 16340 Lithium batteries |
| Operating voltage | 3.7V |
| Standby time | 1.5/2.5 H(IR ON/IR OFF) |
| Built-in screen size | 0.28 inches |
| Image brightness adjustment level | - |
| Tatal Weight: | 704.5g |
| Size | 12x8.8x5.3cm |
| Weight | 288g |
| Box size: | 17x2.5x8.4cm |
| Operating environment | 5℃-40℃ (Relative humidity not exceeding 80%) |
| Storage temperature (°C) | - |
| Other features | Colour, black and white, red, green and a choice of four background colours |