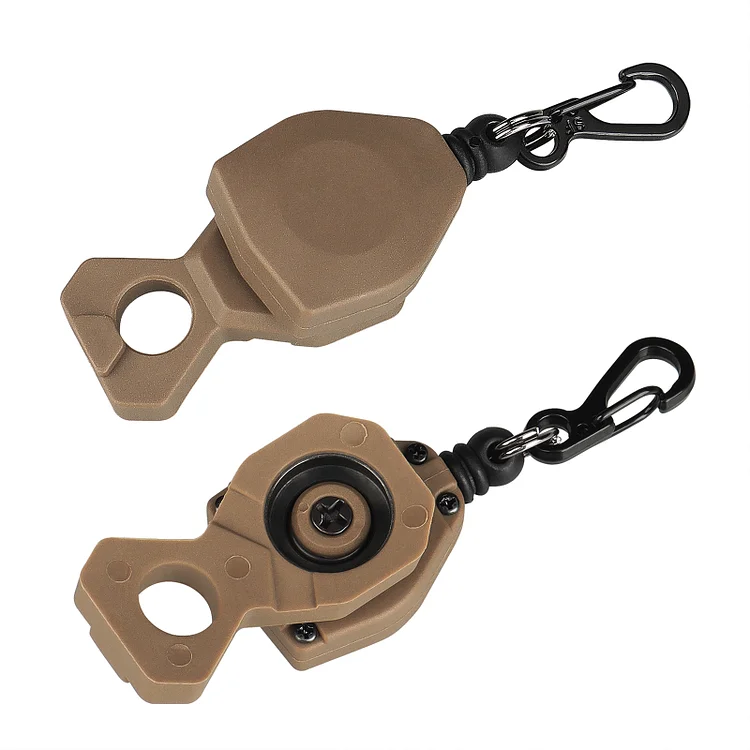 Descriptions:
The NVG Lanyard for Three Hole Bracket Mount features a custom integrated base that securely attaches to a variety of NVG Combat Helmet Mounts. NVG Lanyard for Three Hole Bracket Mount is constructed from a high strength polymer, with a Double Braided Nylon cord, and an Aluminum Spring-loaded Gate Clip, it prevents NVG loss during operation.
NVG Lanyard for Three Hole Bracket Mount features:
* Increases mission effectiveness and prevents loss of the night vision goggle by providing a secure attachment to an array of NVG devices
* Breaks away from the helmet with 8 – 12 lbs of pressure to prevent operator injury
* Maintains a low profile stance on the helmet in both stowed and deployed position
* Flat matte finish for covertness in combat conditions
* Robust tether is designed for a long service life
* Cord Length: 15.35 INCH
* Breakaway Resistance: 8-12 Lbs.
Instructions for Mounting the High Tension Spring Ring to the NVG Lanyard
The NVG Lanvard provided features a pre-installed spring ringthat allows the NVG Lanyard to clip on and off the NVG Mount asdesired. lt also features a separate replacement high tension spring ringthat can be installed to prevent easy removal of the NVG Lanvard fromthe NVG Mount.Installation of the high tension spring ring can beperformed without need for special tools or equipment. Upon installationof the high tension spring ring, it will take considerable force to mountNVG Lanyard to the NVG Mount.
Note: that the pre-installed ring which allows removal ofthe lanvard is unplated while the high tension ring is plated black. This allows for easein identification.
To Replace the NVG Lanyard Ring with Permanent interface Ring
Step 1.)
Using a Phillips screw driver, remove the existing washer and springring.
Step 2.)
Replace the spring ring with the high tension ring provided.
Step 3.)
Replace the washer and screw,and secure until hand tight.