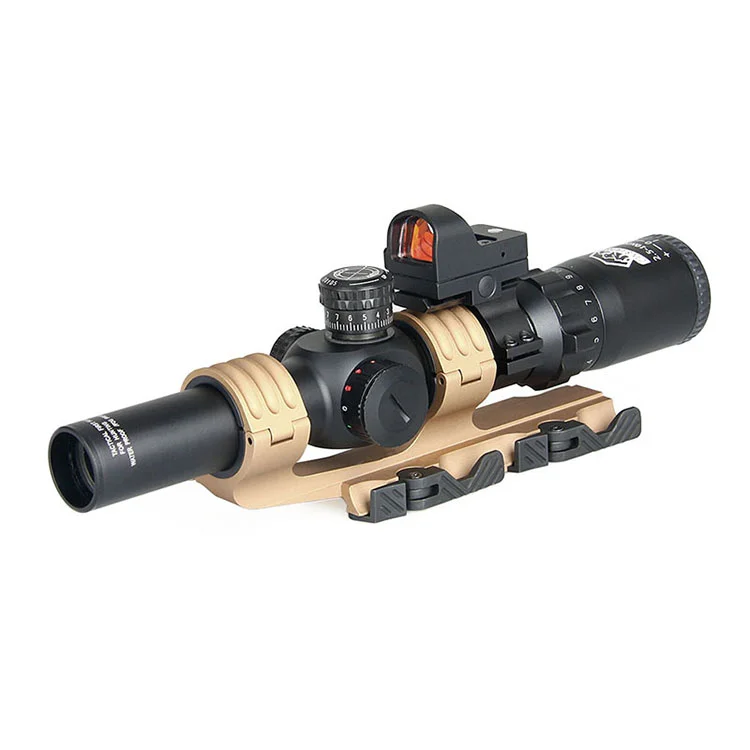 | | |
| --- | --- |
| Magnification : | 2.5x-10x |
| Objective Lens Diameter : | 26mm |
| Specification : | 2.5-10X26 |
| Reflex Lens Coating : | Multilayer Broadband Transparent Film |
| Overall Light Transmission : | >85% |
| Parallax : | <1MOA |
| Parallax Correction : | 100M |
| Field Angle : | 8-2.4 |
| Exit Pupil Diameter : | 10-2.6mm |
| Distance of Exit Pupil : | 2.64-3.20 |
| Click Value : | 1/4" |
| Focusing Range : | 5-infinity |
| Adjustment Type : | Outside Adjust |
| Spiral Direction : | Clockwise |
| E/W Adjustment Range : | ±30-±40 |
| Reticle : | Mil-Dot |
| Illuminated Reticle : | Red/Green ,6 levels of brightness |
| Resistance : | 3.5KG |
| Finish & Coating : | Anodic Oxidation |
| Color : | Matte Black |
| Texture of Material : | Aluminum Alloy |
| Tube Diameter : | 30mm |
| Marking : | According to the demend of client |
| Length*Height*Width : | 290mm*60mm*75mm |
| Weight : | 523g |
| Operation Temperature Range : | -30℃~ +50℃ |
| Storage Temperature Range : | -50℃~ +70℃ |
| Mounting Styie : | Picatinny rail |
| Battery : | CR2032 |
| Battery Life : | 3000/ the 4th level |
| Power Supply : | 3V |
RED DOT Performance Parameter

Magnification

1x

Reflex Lens Coating

Red

Overall Light Transmission

85%

Objective Lens Diameter

22X16.5

Reticle Style

Single dot

Dot Size

2MOA

Parallax

1.5

Parallax Correction

50M

Adjustment Turrets

Hexagon

Adjustment Range

45MOA

Pressure of adjustment screw

2kg

Brightness

04 Level

Whock resistance

1000G

Waterproof

5m

Apperance Parameter

Centerline Height

22MM

Finish & Coating

Anodizing

Color

MATTED BLACK

Marking

Can be customized

Length

46MM

Height

37MM

Width

31MM

Weight

62g,with batteries

The use of parameters

Resistance

1100g

Mounting Requirement

21.2MM

Mounting Styie

ScrewBriquetting way

Ooperation temperature range

1-20~+60(there will be a change of the battery)

Storage temperature range

1-20~+60(there will be a change of the battery)
2-20~+75 (without battery )

Mounting Styie

Screw,Briquetting way

Battery

CR2032(225mAH)

Battery Life

High-light:50 hours,Low-light:500 hours

Power supply

3V

Operating current(low-light)

0.3mA

Operating current(high-light)

3.5mA

Quiescent Current

1A

Rated Input Power

10mW

Rated input voltage

3.0V

Rated Input Current

3.5mA

Rated Output Voltage

3.0V

Rated output current

3.5mA

Frequency

82Hz
Rifle scope

Rifle scope includes telescopic sight, collimating optical sight, and reflex sight.The telescopic sight and the reflex sight are the most popular, and used at day, also name day scope/day sight. In additional, if we add night vision on the day scope, it's called scope/night sight.

A telescopic sight, is asighting device that is based on an optical refracting telescope. They are equipped with some form of graphic image pattern (a reticle) mounted in an optically appropriate position in their optical system to give an accurate aiming point. Telescopic sights are used with all types of systems that require accurate aiming but are most commonly found on fire arms, particularly rifles. Other types of sights are iron sights, reflector (reflex) sights, and laser sights.
Product Scope of Application
1. CS and wargame

An advantage of using a scope with your rifle or gun is that you will be able to aim at your target easier. Also, it is much easier to lineup the target in the crosshairs of a high-quality scope than it is with a standard iron sight. You can feel more confident when using a scope under a high-pressure situation where you need to hit your target. Over time, your ability to leverage the scope to its full potential will be better, which will make you a good shooter

2. Hunting and shooting pratice

Imagine if you have a sophisticated scope attached to your rifle. It would look like you could do no wrong – if it was a high pressure shooting situation, you'd be getting hit after hit. This is the kind of feeling which a rifle scope instills in the shooter. It magnifies the target so you're able to choose exactly where you want to aim your shot! Ultimately, you feel in control of the entire situation

3. Military

As you get better at shooting with your rifle, you will want to shoot farther and with better accuracy. Soon, shooting at targets from your normal sights just will not do anymore – and that's when you'll know you need a quality rifle scope. Since it brings the targets much closer in your vuew, you're able to aim and hit targets farther out. In fact, modern scopes let you change their ocular settings to match your eyes so you don't have to deal with your glasses in the field!