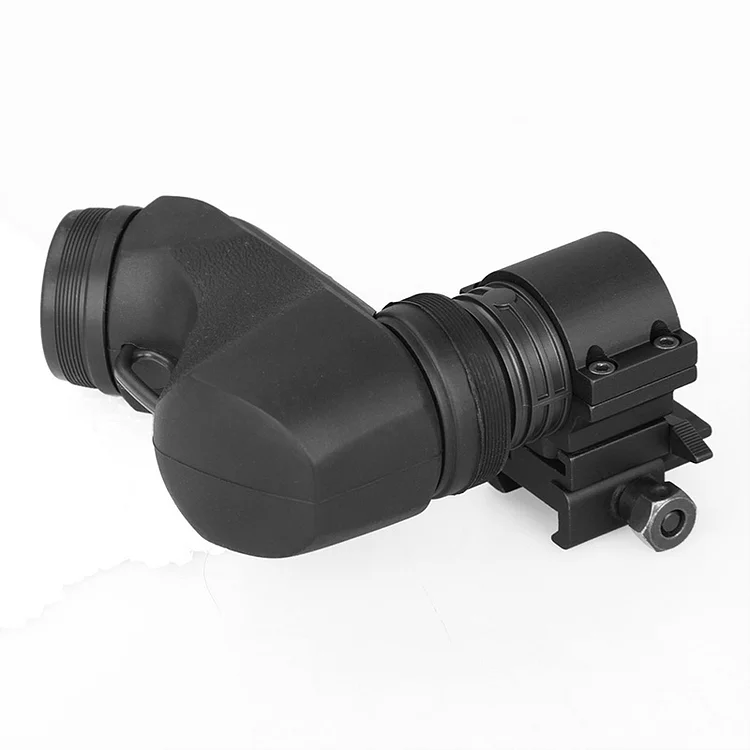 The CEU rotates a full 260° allowing the operator to safely look around either right or left-hand corners, up staircases or down tunnels from almost any angle. To mount the CEU, use the TwistMount base and choose the CEU ring which allows co-witnessing with the sight.
UNIQUE FEATURES
Designed to be compatible with all sights
Designed to provide a "true image," NOT a reversed mirror reflection
Allows aiming over walls, under cars, around corners without exposing head and torso
Does not affect the weapon's point of impact
Can be passed between team members
Rugged, affordable device
Easily removed from the weapon if necessary
Turns a standard infantry weapon into a scouting tool
No need to equip a team member with a specialized weapon
Rotates a full 260°
Designed to withstand extreme conditions
1.2 SPECIFICATION CEU
Optical System
Operating Principle: Two mirrors,reflective device,for true target view
Optical Magnification: 1X,unlimited eye relief
Clear Aperture: 25 mm diameter"see through"
Optical Coating: Anti reflex coated protection elements and high reflection
Coated mirrors for maximum transmission,NVD compatible
Optical Signatrue: The unit does not influence forward optical signature
Physical Specifications
Dimensions
Length: 90 mm(3.5")
Width: 115mm(4.5")
Height: 40mm(1.6") CEU only,detached from the CEU Rise Ring and Twist Mount base
Height of optical axis: 30mm (1.2") or 40mm(1.6") altematively over top surface of the Picatinny Rail
Rotation around optical axis: ± 130º, measured from CEU pointing vertically
Upwards, as reference
Mass: 130 grams(4.6oz), CEU only,separated from the TwistMount.
Low Top ring 35 grams (1.2oz)
High Top ring 55 grams (1.9oz)
TwistMount base part 60 grams (2.1 oz)
Material Housing: High strength glass reinforced polymer,grey,non-glare finish
Material Cover: Rubber,black, non-glare finish
Material Ring: Extruded,high strength aluminum,anodized
Material TwistMount : Extruded,high strength aluminum,anodized
Radioactive Materials: None(Tritium 0%,Thorium 0%,Thorium Fluoride 0%)
Materials: None (Mercury 0%)
Environmental Specifications
Temperature Range, Storage: -45℃ to +71℃ (-50ºF to +160ºF)
Temperature Range. Operation: -45℃ to +55℃ (-50ºF to +131ºF) instantaneous.
Humidity: 95% at 20℃ (68ºF) to 50℃ (122ºF),Cycling
Immersion: 25 m(80ft.)
Shock: 3X500 G 0.7-1.1ms
Vibration: XYZ:10-30 Hz: 3mm,30-150Hz: 5.75 G for 30 minutes
Chemical Resistance: Materials not affected by cleaning chemicals, lubricants, oil or insect repellants.
1.3 LOCATION OF COMPONENTS
See figure below
Locking bar 2) TwistMount base 3) Nut 4) CEU Low Rise Ring
5) CEU High Rise Ring 6) CEU low Rise Ring