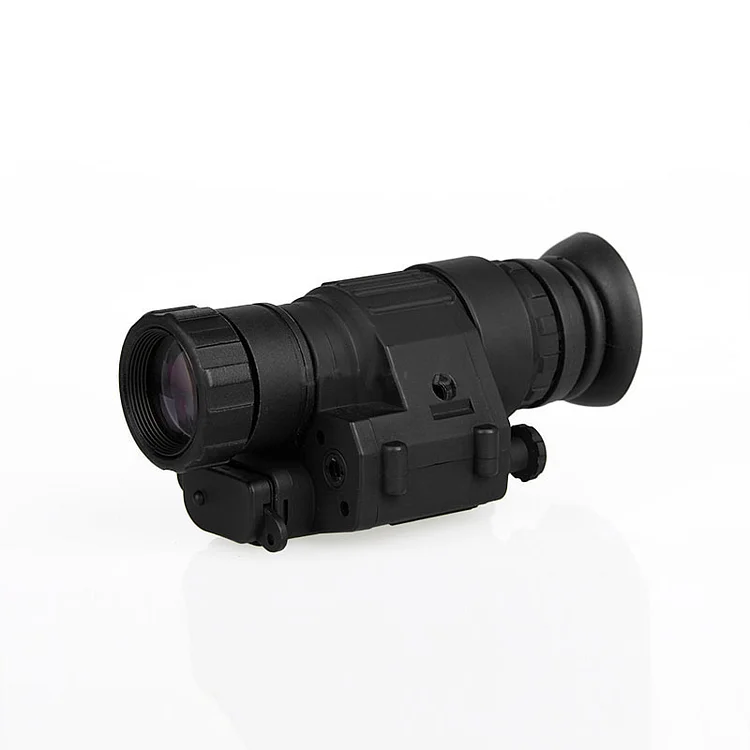 features:
ATN PVS-14 Night Vision scope offers a 3X magnification, allowing you to see objects up to 200m away in the dark.
The 28mm objective lens provides a 6.4° field of view, giving you a wide range of vision.
The 850mm center wavelength ensures that you get a clear and crisp image, even in low light conditions.
The 330x224 pixel resolution ensures that you get a detailed and accurate image, even in the darkest of conditions.
The infrared irradiated light source provides you with a bright and clear image, even in the darkest of nights.
Magnification
3X
Objective
28mm
Field of View(FOV)
6.4°
Exit Pupil Diameter
14mm
Eyes Pot Distance
15mm
Vseibility Regulating Range
±5°C
Minimum Observation Distance
0.8mm
As far as the Night Viewing Distance
>200m
Sensor
1/4"CMOS
Horizontal Resolution
420lines
Display Device
LED
Resolution
330x224 pixel
Lighting Device
1R LED
Center Wavelength
850mm
Working Voltage
DV 3V
Built in Power
AA battery
Battery Endurance
1.5/2.5h (1R ON/1R OFF)
Switch
1. The power switch
2. Infared illumination Brightness regulation
3.Forced switch infrared lighting.
Weight
260g(without battery)
310g(with battery)
Night Vision is a precision electronic instrument used to observe the target in the night and twilight.
In order to meet in a very low light intensity, night vision with infrared irradiation light source, turn on the power switch, you can adjust its brightness by switching.
OP-168 is a day and night of night vision comes with infrared the irradiated light source.
Under bright and dim light it shows color lmages while black and white image in darkness.
OP-168 own infrared irradiation light source device,according to the use of environmental condition can be forced open or close, and may, according to the environment light brightness manual regulation to need the best condition.
Night-vision equipment can be split into three broad categories:

Scopes - Normally handheld or mounted on a weapon, scopes are monocular (one eye-piece). Since scopes are handheld, not worn like goggles, they are good for when you want to get a better look at a specific object and then return to normal viewing conditions.

Goggles - While goggles can be handheld, they are most often worn on the head. Goggles are binocular (two eye-pieces) and may have a single lens or stereo lens, depending on the model. Goggles are excellent for constant viewing, such as moving around in a dark building.

Cameras- Cameras with night-vision technology can send the image to a monitor for display or to a VCR for recording. When night-vision capability is desired in a permanent location, such as on a building or as part of the equipment in a helicopter, cameras are used. Many of the newer camcorders have night vision built right in.
Night-vision devices were first used in World War II and came into wide use during the Vietnam War.The technology has evolved greatly since their introduction, leading to several "generations" of night-vision equipment with performance increasing and price decreasing. Consequently, they are available for a wide range of applications, e.g. for gunners, drivers and aviators.