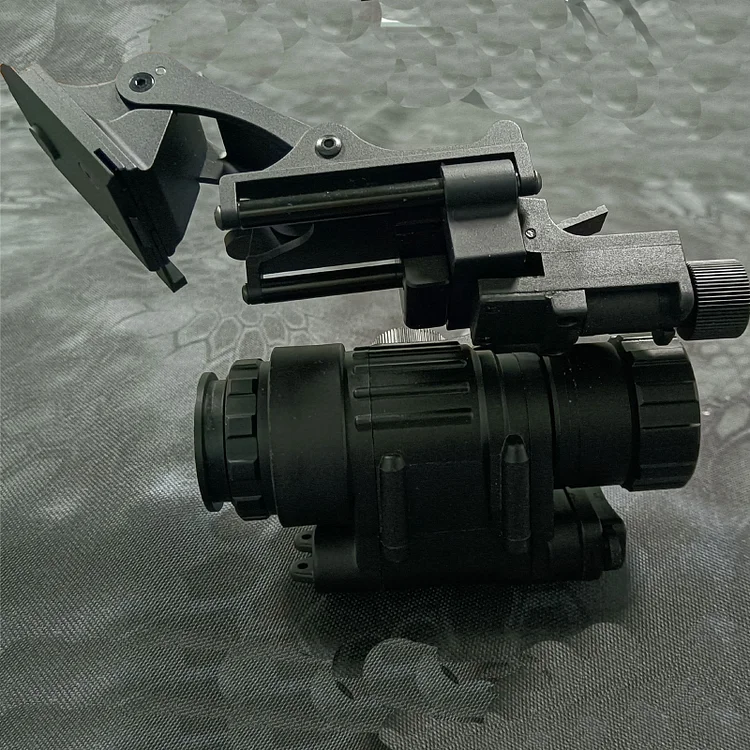 1.PVS-14 night vision goggle is a great choice for hunters and outdoor sports enthusiasts. With its 6.4° field of view, it offers a wide and clear view in the dark, with a screen resolution of 330x224 pixels and a built-in IR illuminator. It also works well during the day and the color is natural and beautiful.
2. Versatile, can be handheld, headband and gun use, equipped with a J-arm and durable all-metal NVG Rhino Arm attached to the helmet shield. Any object in the shot can be seen clearly and the effect of the wide angle can be appreciated.
3. The NVG Rhino Arm is adjustable, so you can adjust the angle of the night vision goggles for the best view. It also features a quick release system that allows you to quickly and easily disconnect the PVS-14 from the J-arm.
4. Switching freely: the J arm can be rotated, the optical night vision device can be viewed with the left eye or the right eye, and can be easily switched anytime and anywhere, while the digital night vision device only supports viewing with the right eye. The "wired" helmet mount adapter has contact points that interface directly with contact points on the PVS-14, and the system automatically shuts off when the user flips the system into an upright position.
5. Sturdy and durable: Made of aviation-grade aluminum and high-strength polymer, it is not only strong, but also very durable. The surface is made of anodized aluminum, which is not easy to wear, and the equipment is not easy to rust in a humid environment. The coating is strong and the service life of the equipment is very long.
This combination product is SKU: CL24-0221 and CL24-0131 and CL27-0008 combination
https://www.haikewargame.com/search?q=CL24-0221
https://www.haikewargame.com/search?q=CL24-0131