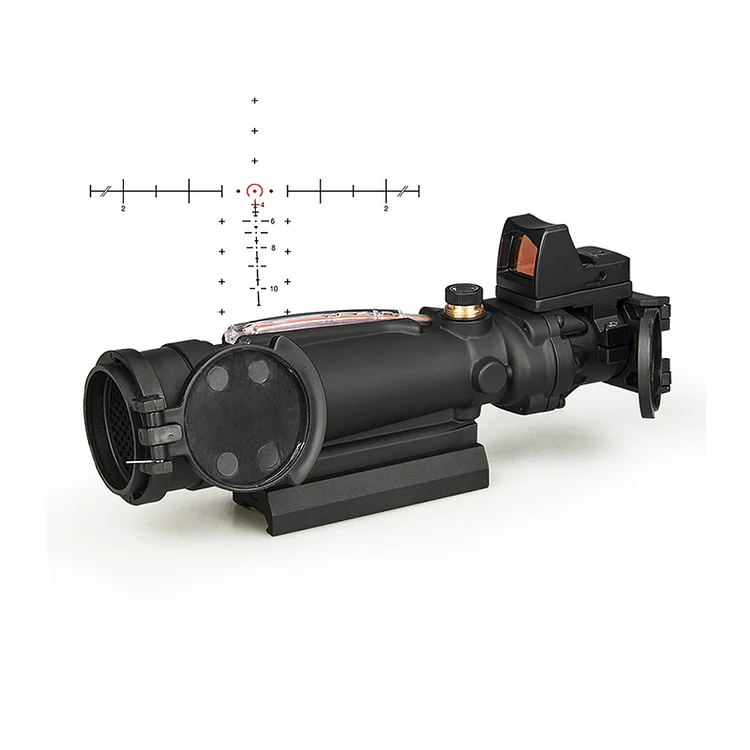 | | |
| --- | --- |
| Magnification | 3.5x |
| Objective Size (mm) | 35 |
| Bullet Drop Compensator | Yes |
| Length (in) | 8.7 |
| Weight (oz) | 20.8 |
| Illumination Source | Fiber Optics & Tritium |
| Reticle Pattern | Horseshoe w/ Target Reference System |
| Day Reticle Color | Red |
| Night Reticle Color | Red |
| Bindon Aiming Concept | Yes |
| Eye Relief (in) | 2.4 |
| Exit Pupil (mm) | 10 |
| Field of View (Degrees) | 28.9 |
| Field of View @ 100 yards (ft) | 4 |
| Adjustment @ 100 yards (clicks/in) | .1 mils per click |
| Housing Material | Forged Aluminum |
It will mount on the M249 light machinegun to assist gunners in target detection, recognition and identification. This model includes the Trijicon RMR, providing the operator with quick target acquisition at close quarter distances or when vehicular mounted.
Also Includes:
HK2-0047 3.25MOA Red Dot Sight
Tactical Quick Detach Mount
Anti-Reflective Device

Set of Flip Up Lens Caps
Rifle scope includes telescopic sight, collimating optical sight, and reflex sight.The telescopic sight and the reflex sight are the most popular, and used at day, also name day scope/day sight. In additional, if we add night vision on the day scope, it's called scope/night sight.

A telescopic sight, is asighting device that is based on an optical refracting telescope. They are equipped with some form of graphic image pattern (a reticle) mounted in an optically appropriate position in their optical system to give an accurate aiming point. Telescopic sights are used with all types of systems that require accurate aiming but are most commonly found on fire arms, particularly rifles. Other types of sights are iron sights, reflector (reflex) sights, and laser sights.
1. CS and wargame

An advantage of using a scope with your rifle or gun is that you will be able to aim at your target easier. Also, it is much easier to lineup the target in the crosshairs of a high-quality scope than it is with a standard iron sight. You can feel more confident when using a scope under a high-pressure situation where you need to hit your target. Over time, your ability to leverage the scope to its full potential will be better, which will make you a good shooter

2. Hunting and shooting pratice

Imagine if you have a sophisticated scope attached to your rifle. It would look like you could do no wrong – if it was a high pressure shooting situation, you'd be getting hit after hit. This is the kind of feeling which a rifle scope instills in the shooter. It magnifies the target so you're able to choose exactly where you want to aim your shot! Ultimately, you feel in control of the entire situation

3. Military

As you get better at shooting with your rifle, you will want to shoot farther and with better accuracy. Soon, shooting at targets from your normal sights just will not do anymore – and that's when you'll know you need a quality rifle scope. Since it brings the targets much closer in your vuew, you're able to aim and hit targets farther out. In fact, modern scopes let you change their ocular settings to match your eyes so you don't have to deal with your glasses in the field!