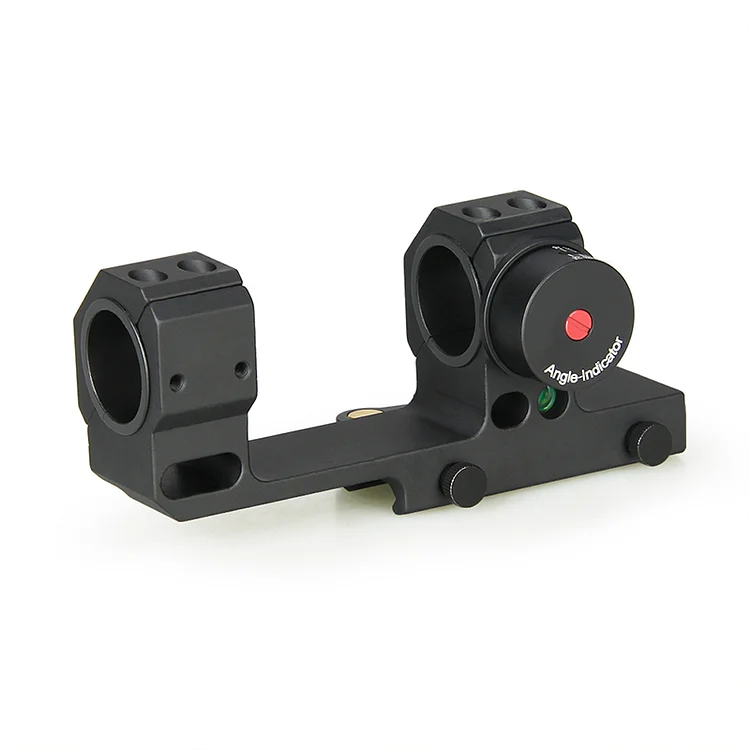 Product description
Feature:
* Machined with aircraft aluminum alloy.
* With angle indicator and scope level helps your long range precision shooting.
* 100% military hard anodizing, knife Scratch-resistant !

Specification:
Diameter: Universally Use for 30mm 1.18"/25.4mm 1"
Color: Black
Length: 140mm/5.51"
Ring's Distance: 62mm/2.44"
Rail Type:Picatinny Rail 21.2mm/0.83"
Material: 6063 Aircraft Aluminum Alloy

Packaged Include:
* 1x Wrench
Scope mounts/scope rings, a kind of Weaver Rail Mount, is a system to connect telescopic sights,tactical flashlight and other accessories to rifles, shot guns, pistols, and crossbows. It uses a pair of parallel rails and several slots perpendicular to these rails.
Canis Latrans' scope mounting systems are engineered to uphold the precision, strength and good looks designed into every Canis Latrans' riflescope. Choose from S-Series steel or A-Series aluminum rings and bases, mounts for the BLACK riflescope line. All are held to incredibly tight tolerances.
Scope bases
The base is attached to the rifle, usually with screws, and is often designed to have a low profile, and to allow use of the iron sights if the scope is not present. Some manufacturers provide integral bases on many of their firearms; an example of such a firearm is the Ruger Super Redhawk revolver. The most commonly encountered mounting systems are the 3/8 inch (9.5 mm) and the 11 mm dovetail rails (sometimes called tip-off mounts), commonly found on rimfires and air guns, the Weaver type base and the STANAG 2324 (MIL-STD-1913 "Picatinny rail") base. Ruger uses a proprietary scope base system, though adapters are available to convert the Ruger bases into Weaver type bases. Scope base and mounting systems are also manufactured in Europe. Specialized manufacturers like Ernst Apel GmbH offer an elaborate program of mounting solutions for many different guns. Some of the European mounting solutions are virtually unknown and hence rarely applied in America. Many European gun manufacturers also developed and offer proprietary scope base systems for their guns, for example Sako has tapered dovetails and Tikka uses 16 mm dovetail.
Scope ring sizes
In addition to needing the right type of connector to attach to the desired base on the firearm (e.g. a picatinny rail), a scope mount needs to have a way to mount to the scope. Ring mounting is the most common method, and the ring size must be chosen according to the size of the outer main tube of the optic. Scopes with a larger main tube have more room for the erector assembly, thereby allowing for a design with increased elevation adjustment.
The three most common standards are:
1 in (25.4 mm), offers a lower production cost compared to 30 mm main tubes, but allows for less elevation adjustment than what is possible with a 30 mm tube
30 mm, the most common main tube standard today, and therefore has the widest range of mounting solutions
34 mm, which has become a new standard main tube size for tactical rifle scopes where more elevation is needed than with a standard 30 mm tube
Some less common standards are:
0.75 in (19.05 mm), seen on some very old models[citation needed]
22 mm
26 mm
35 mm, a rare tube size which only is seen on some current models from Romanian IOR and U.S.-based Vortex and Leupold
36 mm, only used on some newer scope models by Zeiss and Hensoldt
40 mm, only used on some scopes made by Romanian IOR and the new Swarovski dS scope
Rings are also available in a variety of heights and materials. Ring height is chosen to place the scope high enough to clear the firearm, and at a height comfortable for the shooter.