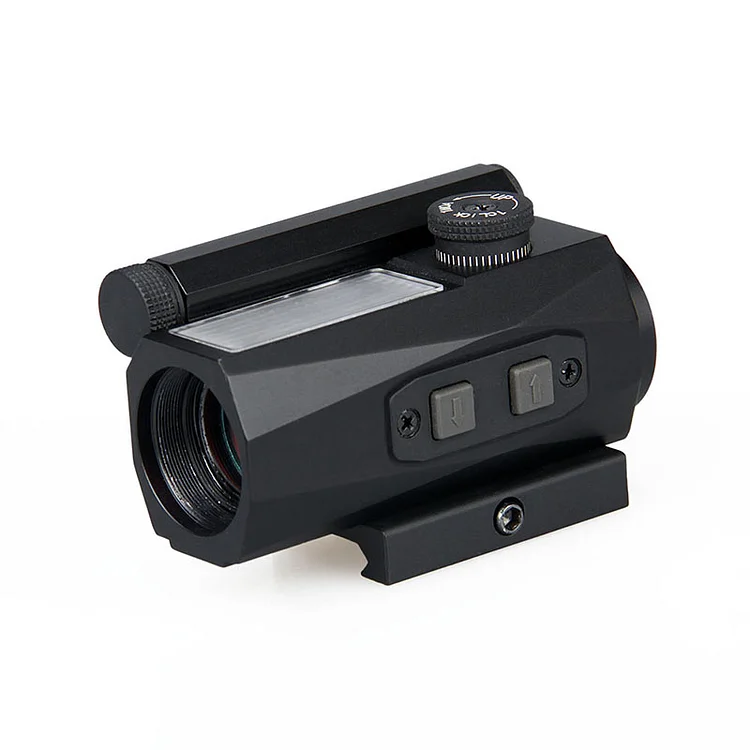 Magnification
1
Specification
1x20
Reflex Lens Coating
Red film
Objective Lens Diameter
20
Parallax
<1.5MOA
Parallax Correction
50yard
Adjustment Type
manual adjustment
Click Value
1MOA
Elevation/windage adjustment range
>120MOA
Red DOt
2MOA
Coordinate lighting brightness
6 Levels
Apperance Parameter
Finish & Coating
Anodizing
Color
Black
Texture of material
Aluminum alloy
Marking
According to the customer request
Length
83.5mm
Height
50.3mm
Width
42mm
Weight
200g
The use of parameters
Operation temperature range
-20℃~+60℃(-20Come with battery , low temperature may not reach 20degree
Storage temperature range
1.-20℃~+60℃(-20Come with battery , low temperature may not reach 20degree
2. -20℃~+80℃
Rail
21.2MM
Mounting Styie
bolt,the way of briquetting
Battery
AAA AAA Batterythis battery is not chargeable) or can buy the chargeable battery by yourself
Battery Life
High light
15hours Low light
Power supply
1.5V
Operating current(low-light
2.4mA
Operating current(high-light
65mA
Quiescent Current
16A
Charging currentstrong sunlight
25mA
Charging time
about 60hours
Rated Input Power
100mW
Rated input voltage
1.5V
Rated Input Current
65mA
Rated Output Voltage
3V
Rated output current
30mA
Frequency
85Hz
1, The product adopted the AAA battery with 1.5V and the solar battery (the inner voltage is 3.3V) . We can choose the solar battery for charge first and it can charge for the battery in the same time . The battery will work automatically if the solar power is not enough .
2, The solar power is chargeable for the battery ,even the switch is turned off .
3, There are two switches including the "↑" and "↓".
4, "↑"is the switch for turning on and adjustment of the increasing brightness .When you touch the button "↑"which show the defaulted lowest brightness . The brightness will increasing when you press the button "↑" time by time .The most brightest state is on 6class ,when you press the button "↑" more than 6times ,nothing will be changed.
5, The button "↑" is used for lowering down the brightness and turning off . The brightness will lowered down by pressing the "↑"time by time .It will be off state when you press more time on it and it is on the lowest brightnes.