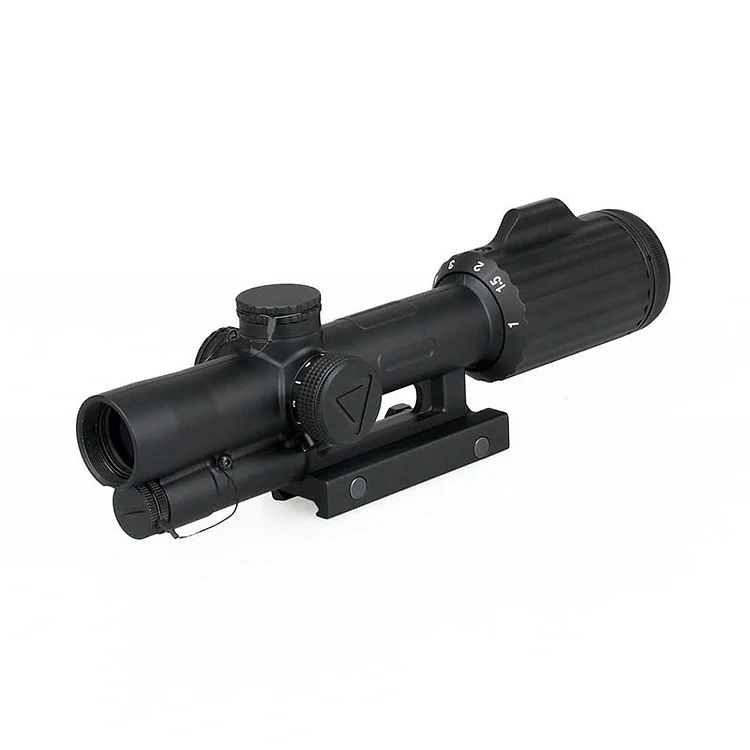 Pecifications for 1-6x24 Riflescope w/ Mount
Brand
Magnification
1-6x
Objective Size
24
Bullet Drop Compensator
Yes
Weight (oz)
23.2 (w/o mount or battery)
Illumination Source
LED
Calibration
5.56/55 grain, 5.56/.223 77 grain, .300 BLK, .308 175 grain
Bindon Aiming Concept
Yes
Eye Relief
4 in. Constant
Exit Pupil
0.41 - 0.15 in.
Field of View (Degrees)
18.0 - 3.0
Field of View @ 100 yards (ft)
95 - 15.9
Adjustment @ 100 yards (clicks/in)
1 click @ 100m = 1/2 in.
Mount Comes With
TA51
Housing Material
Forged Aluminum
Batteries
1 AA Alkaline or Lithium Battery
Battery Life
715 hours continuous use at brightness setting 4 of 6
Dimensions
10.05 x 2.51 x 2.73 in.
Focal Plane
First
Adjustment Range
Elevation
Rifle scope includes telescopic sight, collimating optical sight, and reflex sight.The telescopic sight and the reflex sight are the most popular, and used at day, also name day scope/day sight. In additional, if we add night vision on the day scope, it's called scope/night sight.

A telescopic sight, is asighting device that is based on an optical refracting telescope. They are equipped with some form of graphic image pattern (a reticle) mounted in an optically appropriate position in their optical system to give an accurate aiming point. Telescopic sights are used with all types of systems that require accurate aiming but are most commonly found on fire arms, particularly rifles. Other types of sights are iron sights, reflector (reflex) sights, and laser sights.