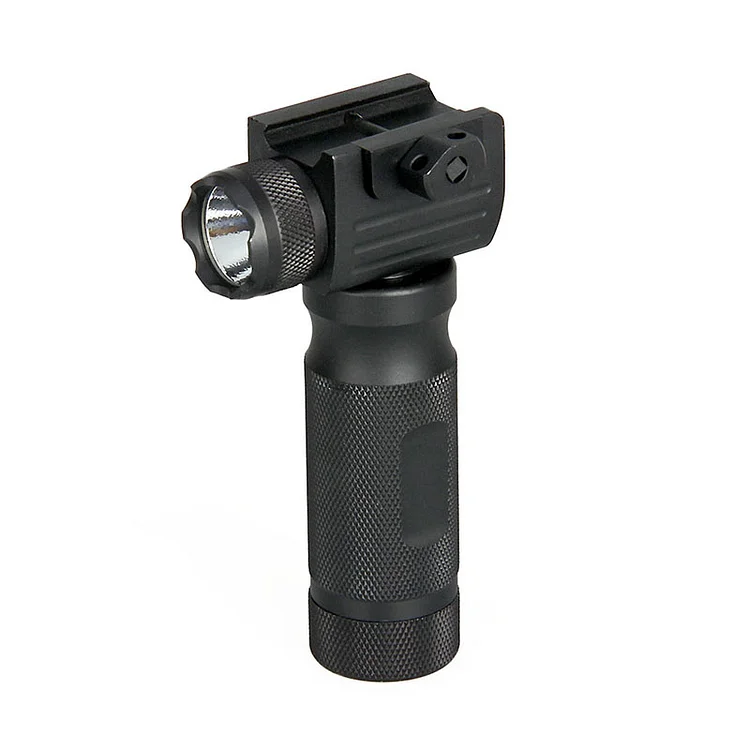 Tactical quick detachable vertical grip flashlight with red lase
Material: Aluminum
Flashlight Bulb Type: 26mm LED IRB
Switch Operating Type: Push-button on/off Switch
Battery: Two pcs CR123A 3V batteries.(not including)
Width:70mm
Height:136mm
"A tactical light is a flashlight used in conjunction with a firearm to aid low light target identification, allowing the marksman to simultaneously aim and illuminate the target. Tactical lights can be handheld or mounted to the weapon with the light beam parallel to the bore. Handheld lights are generally restricted to use with handguns, as long guns require two hands to operate. While just about any handheld flashlight can serve in the role of tactical light with the proper technique, some features are more readily adapted to the role. Weapon mounted lights (sometimes called ""weaponlights"") offer hands-free use, leaving the operator free to use both hands to control the weapon. Most models have an on/off switch mounted on a short wire. The switch is then mounted somewhere on the gun within easy reach of the firer's fingers. Weapon mounted lights are most commonly seen on rifles, shot guns, and submachine guns, but they are becoming more common on hand guns as well."

Tactical flashlights serve a much different purpose to household flashlights, their history and development has been made to serve a different market. Tactical flashlights were originally developed to be used in conjunction with a firearm to assist with target identification in areas where there is limited lighting. Rather than wielding a separate flashlight, it would allow a marksman (law enforcement, security or military) to aim a weapon and illuminate a target at the same time.

For police and security, tactical flashlights were a great innovation as they could offer a concentrated light beam which could temporarily blind an assailant or suspect, assist with target identification, and, with the much bigger tactical flashlights such as the Maglight, it could be used as a blunt weapon much like a police baton. This field of use meant the tactical flashlight had to be constructed differently, as household flashlights are often made of cheaper materials such as plastic, and would not be able to provide these same uses for those specific industries.

Tactical flashlights would also extend into further military use, where instances might permit for lower lighting filters to be used, such as red light filters to preserve a person's night vision as well as being able to illuminate an object. Some tactical flashlights can also be used with infrared filters, which when used in conjunction with night vision operating equipment, can serve as a marker or illuminate objects or areas to only night vision wearers. This is also used with laser sighting for weapons, which is a standard practice for the military to use precision aiming at night.
Tactical flashlights offer a mode of uses that household flashlights don't. One of its best uses is as a self-defense option. As tactical flashlights are not considered weapons in comparison to other self-defense tools such as pepper spray, they can be carried on to air transport, meaning there is no issue with this item as everyday carry tool for travelers. Here are some others that you might need one for.
Self-defense
How can they be used as a self-defense tool? Primarily, almost all current tactical flashlights are able to concentrate and narrow their field of light into a singular beam. Because tactical flashlights already pack a high lumens, they are incredibly bright. So bright, in fact, that they will temporarily blind a person who might be about to attack you or threatening you. This is especially the case if it is night time as the attacker's eyes will be more adjusted to lower lighting. Blinding an attacker in this manner will allow you to make an escape, which is the priority in all self-defense scenarios.
Illumination
Tactical flashlights can come in small, convenient sizes to carry in your handbag, backpack, or just in your pocket. This means that if you ever find yourself walking home on your own at night and you feel like you might be in danger, or just in an area that feels unsafe to you, you can walk with the flashlight in your hands and when your path gets too dark, you can light it up quite easily. With a tactical flashlight and narrowing the beam, it can cover a fairly good distance too.
Not only does this help with safety against potential attackers or thieves, but it also helps in ensuring that you are able to walk on a path and know that each step you take won't be an ankle roll or an invisible hole that you would have seen had it been lit up.
In emergency situations
There is no doubt that when the power goes out, the first thing we all look for is a flashlight. Generally, it's somewhere tucked away in the back of a kitchen cupboard or under the sink. Or perhaps you have a blackout kit that you have made up for emergencies like this? For me, I generally keep my flashlight in my pocket which spares me the effort of fumbling around in the dark and finding furniture with my shins.
Starting a fire with a flashlight
This can be done in a few different ways. The first one is only for a survival situation as it involves breaking the light bulb. This should be done carefully as it is only the outer glass that you want to break, not the inner filament. If your filament is intact, you can use a little bit of tinder in the top of the light around the filament and switch the light on. The second method is to use the protecting glass lens from the cap of the flashlight to magnify the sun during daylight onto tinder. The third method is one that is only available to some tactical flashlights that have highly concentrated lumens. If this is shone onto tinder it is able to burn a flammable material.
As a utility tool
One of the design specifications of a tactical flashlight is to be sturdy and durable. Many of the current brands of tactical flashlights have versions that are used in law enforcement and military industries. For instance, a large Maglite can serve as a weapon because of its hard exterior and thick, long, handle. However, with the serrated edges that duty-made tactical flashlights come with, they can be used to break through a car window, either to get in or get out of one in a rush.
Signaling for help
When it comes to a situation where you might be in an emergency, lost, or need to signal drivers on the road for help, the main things we have at our disposal are sound by yelling and movement by waving our hands. However, a flashlight can replace a lot of those functions when they become unusable at night time. For instance, while driving on long roads in country areas, I have seen people waving flashlights that might need help. If the situation is safe, I will pull over and help. A flashlight is also an essential way of using morse code, or just signaling for help if you are ever lost in the wild.